The Business of Alliance Shippers Inc. is …"To Manage Our Customers' Business." At Alliance Shippers Inc., we tailor premium transportation and logistics solutions for customers around the globe.
Partnering with Alliance Shippers Inc., allows you to focus on what you do best because we take care of the rest.
We've spent decades implementing, modifying and enhancing every one of our systems to efficiently and effectively manage your supply chain demands. Our integrated team approach puts the customer at the center of every solution — and every innovation.
Your product is temperature-sensitive. Your schedule is time-sensitive. Your answer is Alliance Shippers Inc.
Alliance Shippers Inc's dedicated temperature control team is experienced in arranging refrigerated shipments. Our refrigerated, CARB-compliant fleet, and the modern technology offers reliable high-quality service to our customers. Keeping your products fresh is our main priority. Alliance Shippers consistently arranges transportation solutions for your temperature-sensitive products, ranging from perishable foods to frozen products
Temperature Control Equipment
• More than 1,400 53' refrigerated trailers
• 200 state-of-the-art refrigerated containers
• Maximum Payload Capability
• Trailer units temperature range of minus —20ºF to 80ºF
• Two Way Telematic Communication on all refrigeration units
+++– 24/7 visibility of our refrigeration units
+++– Control of every refrigeration unit from our dedicated refrigeration operation
+++– Downloadable Temperature Profiles
• Dedicated Refrigerated Logistics Team
• Online Shipment Information 24/7
• Arrange Transportation Service Schedules
• Cargo nets and wooden gates on every trailer
ALLZ Fleet Innovation & Technology
Because we understand how delicate and costly temperature sensitive products can be, we've invested in the industry's most technologically-advanced refrigerated fleet—our entire fleet is equipped with two-way cellular communications. Our state-of-the-art telematics system monitors your shipment's location and allows us the ability to monitor and adjust shipment temperatures in an instant, without having to stop while en route.
Smartway Partner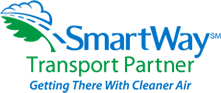 Since 2006, Alliance Shippers Inc., has been a partner of the EPA's SmartWay program. Building our CARB-compliant refrigeration fleet with the most current technology enables us to move your products while reducing CO² emissions by approximately 67%.
Operations
• Dedicated refrigerated operations located in Mechanicsberg, PA; Rialto, CA; Chicago, IL
• Refrigerated shipments are our core competency
• All intermodal shipments move in priority rail service
• State of the art refrigerated trailers and containers
• The latest 2-way telematic technology
• Facilities positioned for operation efficiencies
With more than 40 years of award-winning intermodal transportation experience, we are the largest privately owned Intermodal Marketing Company (IMC) in the United States. We are guided by our Perfect Shipment® Program, to consistently deliver you the best transportation solutions and world-class service for your valuable cargo, and our goals are to:
• arrange for on time pick up of the shipment 
• arrange for delivery of the shipment at the time requested
• assist for delivery of the shipment without exception
• provide an accurate freight bill
Real-Time Visibility
Relevant information on shipment activity is easily accessed through a straightforward customer portal. It allows every shipment — and every benchmark event — to be monitored.
Intermodal Refrigerated
We are one of the largest movers of refrigerated intermodal shipments on our nation's railways. At Alliance Shippers Inc., the size and scope of our modern, CARB-compliant ALLZ fleet sets us apart from others. We deliver solutions for your temperature sensitive products throughout North America.
Container Services
Our operational and network reach allows us access to more than 84,000 intermodal containers from our railroad partners. Our extensive capacity means we can meet the needs of virtually any shipping demands.
Priority Service
Our long-standing relationship with the BNSF has earned us access to their priority intermodal trains. When expedited service is needed, Alliance Shippers Inc. gets it done.
Alliance Highway Capacity
Whether your highway needs are solved with a long-term contract, a more on-demand transaction, or a combination of the two – we're the call to make. Our dedicated team of experts will gain a deep understanding of your business, so they can arrange the best solution for you today, and be ready to arrange the best solution for you in the future.
SOLUTIONS FIT TO YOU
You have the option of utilizing both transactional and contractual highway brokerage solutions with Alliance Highway Capacity. These include drop trailers, dry vans, flatbeds, box trucks, refrigerated shipments, full visibility of shipments and full EDI integration capabilities.
• More than 27,000 contracted carriers
• All carriers rate above industry standards for safety and insurance coverage
• Extensive contracted group of CTPAT-certified cross-border carriers, covering both Canada and Mexico
SEE IT ALL, ALL THE TIME
Our advanced tracking system gives you a real-time, bird's-eye view of all your pending and in-transit shipments without having to query a database one load at a time. Simple and easy – just the way it should be.
LET'S GET THINGS MOVING
We know what's on the line each time you have freight transportation needs. Learn how we can arrange the perfect solution and get a quote by emailing highwaycapacity@alliance.com
JOIN OUR CARRIER NETWORK
Email carriermaint@alliance to request a carrier packet.
Below are our requirements in order to begin hauling for us:
• Companies must have Common or Contract Authority
• Minimum of $2 million auto liability insurance
• Minimum of $2 million general liability insurance
• Minimum of $100,000 cargo insurance policy
• Minimum of $500,000 statutory workman's compensation insurance
• Must have Reefer Breakdown coverage (if applicable)
• Carrier setup packet completed in its entirety
• Carrier Agreement must be signed by an authorized individual to enter your company into a legally binding transportation agreement
Established in 1988, Alliance International has shot up through the ranks to be a premier Ocean Transportation Intermediary and Non-vessel Operating Common Carrier (NVOCC). Drawing from expertise and experience, Alliance International designs and executes transportation solutions with detailed Standard Operating Processes allowing visibility and Key Performance Indicators.
Our exclusive partner for worldwide logistics is Logwin AG — a $2 Billion Euro company with 2,000 employees and offices on every continent — the strength of this partnership enables us to have hands-on management of our customers' freight across the globe.
Freight Forwarding
Alliance International brings a depth of experience in all aspects of global end-to-end forwarding, enabling delivery of a well-rounded shipping experience. Utilizing modern technology coupled with an eye toward innovating for tomorrow, Alliance brings visibility, continuity and a sense of urgency to shipping for our customers' peace of mind.
• Offices and facilities in every major worldwide port enables complete service availability
• A Cloud based system allows for real-time visibility
• Experienced multi-modal shipping and design simplifies solutions and documentation
Ocean Freight Services
Alliance International has multiple freight carrier options, allowing a wide range of sailing dates, transit times, and service capabilities. We understand the key to offering shipping options is the ability to respond quickly to emerging situations. With our boots on the ground at origin, visibility of the freight, and constant communication, proactive changes are effectuated seamlessly.
• 21 Service contracts enables multi-directional capacity and competitive rate options
• LCL or FCL services are available in the Far East, Europe, Sub-Contact and the Africas
• Integration of Alliance Shippers domestic services and Alliance International worldwide services
Air Freight Services
Having multiple services available in consolidations and different routings, Alliance International executes expedited services on a budget, effectively and efficiently routing air freight to hit project deadlines. From watches, fashion, and aircraft parts, to trade shows and exhibitions our origin offices have the expertise to get the freight on time and on budget.
• Inbound and Outbound documentation and service management
• Deferred, Consolidated and Direct Services available
• Air/Sea Service options
Logistics and Visibility Solutions
Alliance International has performed logistics services since 1992, the year we developed a highly customized program for McDonnell Douglas Aircraft Corporation. Our signature service enabled complete visibility of FAA parts from origin to destination — and to the assigned fuselage of several different aircrafts.
Today, our Overseas Operating System pulls data from all sources into one cloud-based portal. That portal enables customers to gain real-time visibility, check performance and report exceptions. It is useful block chain technology for every customer — and every shipment. Our goal is to deliver a highly sophisticated and agile system.
Alliance International offers customized systems in an effective — and efficient — process. Whether it's a Fortune 500 company or a local start-up, every importer has different needs. Alliance International has the people and technology in place to design different solutions for the different needs of our customers.
• Centralized Management delivers controlled and measured SOP's
• Booking and Origin P.O. Management Country to Country
• Granular visibility, P.O. inception to final delivery
• Anxilary Fee Management and Accounting
Staying compliant takes expertise. As a customs broker, Alliance skillfully manages US Customs documentation for both importers and exporters: Processing compliant documentation, calculating duties and taxes, arranging for inspections, and deliveries.
Working with government agencies and keeping updated with tariff changes is a responsibility at the forefront in today's world for both importers and exporters. Alliance has the experience to draw from to ensure our customers entries are properly handled.
• Key performance Indicators enable clear and precise exception management
• Cloud based systems enables Customs Processing visibility
• Regulatory updates
• Overseas staffing for ISF filing compliance in real time
Linked here is the Customs-Trade Partnership Against Terrorism (C-TPAT) Guidelines for reporting Suspicious Activities, Anomalies and Security Breaches
Contact
Long Beach:
180 E. Ocean Blvd, Suite 1000 10th Floor
Long Beach, CA 90802
T: 1-562-240-2200
Wood Dale:
199 S. Addison Road, Suite 103
Wood Dale, IL 60191
T: 1-630-274-1000
Kansas City:
5700 Broadmoor Street, Suite 600
Mission, KS 66202-3340
T: 1-913-262-7060
Savannah:
31 Park of Commerce Way
Savannah, GA 31405
T: 1-912-447-1089

Alliance Shippers Inc. facilitates and manages the movement of your cross-border freight through an extensive network of C-TPAT certified partners, working through our Laredo, Texas, operation center.
North American Border Crossings
Whether you're shipping from the United States to Mexico or from Canada, our bilingual professionals manage your shipment from pickup to delivery. We offer:
• Company owned and operated transload facility and services
• Full services at all Mexico border crossings
• All rail intermodal service into the interior of Mexico
• Through Trailer or Transloaded Highway Services product offerings
• Through Container or Transloaded Intermodal Service product offerings
• Company owned and managed warehousing facilities
• LTL, Hot-Shot, Intermodal, Highway, Flatbed, and Refrigerated Transportation solutions